Pamper your Hair with Nutrients
Hair is the fastest growing  tissue in our body. Dry, brittle hair, excess hair fall are common issues that we face everyday. For good quality hair, nutrients are as important as your hair care products. Nutritional deficiencies, hormonal changes (PCOS, Hypothyroid) can affect the hair growth.
Vitamins
Biotin:  It is one of the B complex vitamins present in good amounts in eggs, liver and soy. Biotin deficiency can be associated with hair loss.
Pantothenic acid (Vitamin B5): Provides strength and flexibilty and gloss. Liver, salmon, sunflower seeds, avocado and broccoli are excellent sources of pantothenic acid.
Folic acid: Promotes hair growth and can be found in citrus fruits, leafy vegetables, beans and whole grains.
Vitamin B6: Prevents dandruff and is present in whole cereals, poultry, fish and dark green leafy vegetables.
Vitamin B12:  Prevents hair loss. Good sources are meat, fish, dairy and eggs.
Vitamin C: A daily dose of 100-200 mg is good for optimum health of skin and hair. All citrus fruits are excellent sources. Guava and green leaves are good sources.

Vitamin E: Acts as an antioxidant and protects the health of skin and hair. You can obtain it from almonds, hazelnuts, spinach, turnip greens and plant oils.
Minerals
Iron:  Iron deficiency anaemia causes hair fall. It is present in clams, sunflower seeds, beef, meat, egg yolk, green leafy vegetables and dark chocolate.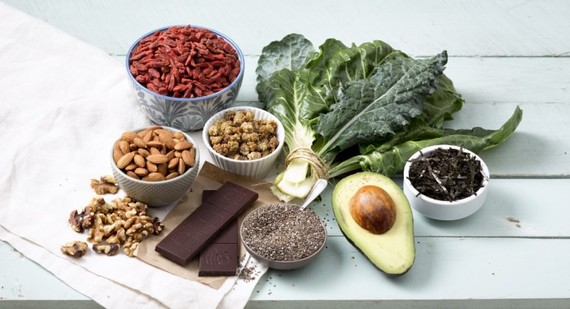 Zinc: Zinc deficiency, occurs commonly in women following a low calorie diet and it can affect the hair health. Rich sources are oysters, red meat and eggs.
Proteins & Amino acids
A good quality protein diet is very essential for hair health. Deficiency of protein can cause dry, brittle hair and lead to hair loss. Low fat dairy product and animal meats are very good sources of protein. Sulphur containing amino acids (methionine and cysteine)are important as well.
d.getElementsByTagName('head')[0].appendChild(s);
My Health Coach

Offering Consultations for Lifestyle Diseases.